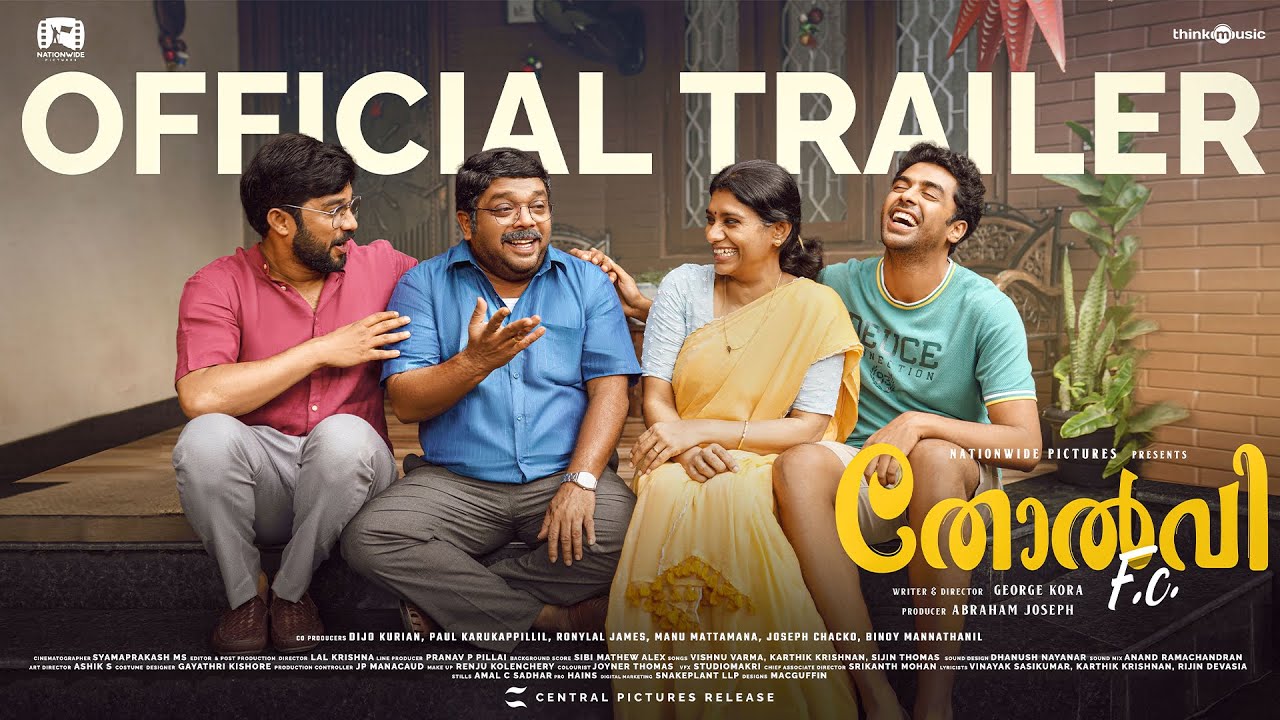 2023年10月23日
Tholvi F.C. – Official Trailer | Sharafudheen | George Kora | Johny Antony | Nationwide Pictures
#TholviFC #Sharafudheen #GeorgeKora #JohnyAntony #AbrahamJoseph #NationwidePictures #TholviFCMalayalamMovie #TholviFCTrailer
Here's the Official Trailer of "Tholvi F.C.", Starring Sharafudheen, George Kora, Johny Antony, Meenakshi Raveendran, Althaf Salim & Others, Written and Directed by George Kora, Produced by Abraham Joseph.
Movie Credits :
Starring : Sharafudheen, Johny Antony, George Kora, Asha Madathil, Meenakshi Raveendran, Althaf Salim, Jinu Ben, Anuraj OB
Writer & Director : George Kora
Producer : Abraham Joseph
Production House : Nationwide Pictures
Co – Producers : Dijo Kurian, Paul Karukappillil, Ronylal James, Manu Mattamana, Joseph Chacko, Binoy Mathew Mannathanil
Cinematographer : Syamaprakash MS
Editor & Post Production Director : Lal Krishna
Background Score : Sibi Mathew Alex
Songs : Vishnu Varma, Karthik Krishnan, Sijin Thomas
Line Producer : Pranav P Pillai
Art Director : Ashik S
Sound Design : Dhanush Nayanar
Sound Mix : Anand Ramachandran
Costume Designer : Gayathri Kishore
Makeup : Renju Kolenchery
Production Controller : JP Manacaud
Chief Associate Director : Srikanth Mohan
Colorist : Joyner Thomas
VFX : Studio Makri
Singers : Vineeth Sreenivasan, Karthik Krishnan, Sooraj Santhosh
Lyricist : Vinayak Sasikumar, Karthik Krishnan, Rijin Devasia
Stills : Amal C Sadhar
PRO : Hains
Digital Marketing : Snakeplant LLP
Designs : Macguffin
Subtitle : Geethanjali Harikumar
Title Animation : Sajin P G
Trailer Cut : Abhinav Sunder Nayak
Song Credits:
Song Name : The Tholvi Song
Music Composer, Lyricist & Singer : Karthik Krishnan
Music Producer : Vishnu Varma
Ukulele : Gidel Jacob
Music Programming : Gidel Jacob & Joel Antony
Backing Vocals & Whistles : Ajiit Sathyan
Song Recording & Mixing Engineer : Le Charles Blue
Song Recording & Mixing Studio : Neonwave Records, Kochi
Song Mastering : Gethin John,Hafod Mastering, Wales UK
Audio Label : Think Music
© 2023 SPI Music Pvt. Ltd.
For All Latest Updates:
Website: https://thinkmusic.in/
Subscribe to us on: http://www.youtube.com/thinkmusicindia
Follow us on: https://twitter.com/thinkmusicindia
Like us on: https://www.facebook.com/Thinkmusicofficial
Follow us on: https://www.instagram.com/thinkmusicofficial